We Kwality Healthcare established in 2010 By Mrs. Rekha Tandlekar & now it is one of the leading manufacturers of Disposable Safety Products in India.
Our Hot products are, Disposable Bouffant cap, Disposable Surgeon cap, Disposable Face Mask 2 Ply & 3 Ply with Elastic, Disposable Face Mask 2 Ply & 3 Ply with Lace, Disposable Non woven shoe cover, Disposable PVC shoe cover, Disposable Plastic shoe cover ultrasonic welded, Disposable Plastic Hand gloves 12″ to 36″
Disposable surgical & bouffant cap, face mask, FFP1 mask, Dust Mask, Pocket mask, Cup Mask, PE Hand gloves, PE & Non woven Shoe Cover, Non woven Lab coat & Pant, Surgical gown, Boiler suit, PE Apron, Non woven apron and Disposable Protective apparel.
Our Products Widely Used In:
Pharmaceutical Companies, Oncology Division, Chemical companies, Cement and Ceramic Companies, Colour & Dye making industries, bagging & construction industries, hospital, R & D Unit, hygiene centre, hotels, dairies, clean rooms, Beauty Parlour Industries etc.
Factory Location & Manpower:
Kwalitex Healthcare P Ltd has registered office at Thane, Maharashtra, India, which is in close proximity to the Mumbai and is well serviced by ports, national highways and reputed logistics providers. More than 50 people working with us in our production as well as commercial department.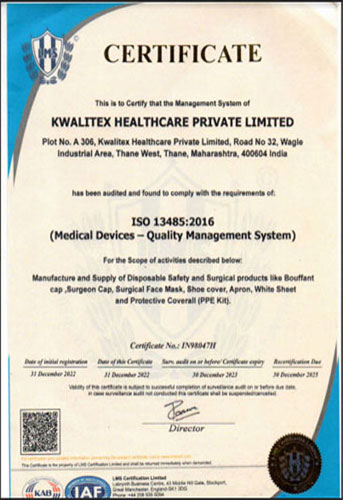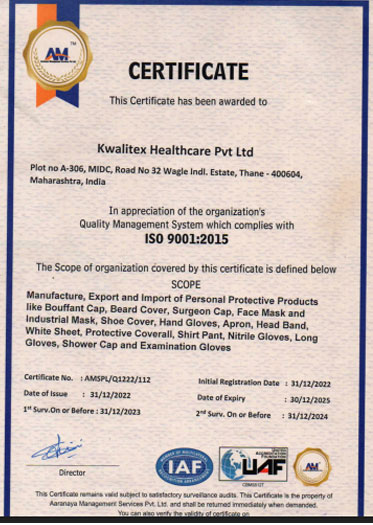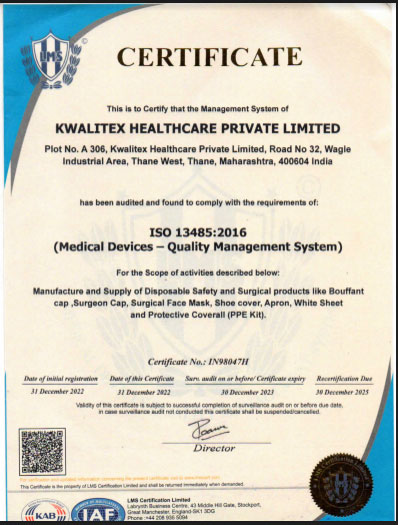 >